Bhutan is quite different from rest of the world and looks stunningly beautiful maintaining its uniqueness through sustainable modernization. The weather of Bhutan is refreshing and pleasant to have spent a greater over there.
There are no traffic signals in Bhutan, which makes it beautifully unique. Their development has occurred but without hampering its green treasure.
The roads are peaceful and organized in their own way.  Exotic hills, river banks, wooden style Bhutanese home with fortress like structure and exquisite handicraft stores will surely stored in your memory forever.
Look into the historical background!
In the 15th century, their leader Lama Drukpa Kunley considered being a holy man with his unorthodox teachings like drinking beer, sleeping with prodigious quantities of women and fighting with evil forces.
The Druk is the thunder dragon according to Bhutanese mythology and appear in the national flag of Bhutan and even as a brand in the corporate industry. The present king maintains the peace and harmony for the citizens of Bhutan where the population welfare is not measured by GDP but by GNH which is Gross National Happiness.
Happiness is a way of life in Bhutan and that makes the country so ideal for traveling.
The Kingdom of Thunder Dragon is a beautiful and amazing place to explore when you are in a holiday mood. The people out there are so friendly that you can easily communicate with them by knowing their culture and ethnicity.
Let's look into the places and center of attractions which gives you an ultimate solitude to travel without any stress.
How to reach Bhutan
You can take the flight to Paro international airport from Delhi, Kolkata, Bangkok, Bagdogra, Dhaka, Bodh Gaya, Kathmandu, Singapore, Guwahati, and Mumbai. There is no direct train service for Bhutan so you need to reach New Alipurduar, Siliguri, New Jalpaiguri Station or Hasimara and book the car to enter Bhutan. There is no visa required for Indian citizens but you need to make permit showing id proofs at Phuntsholing.
Some of the center of attractions: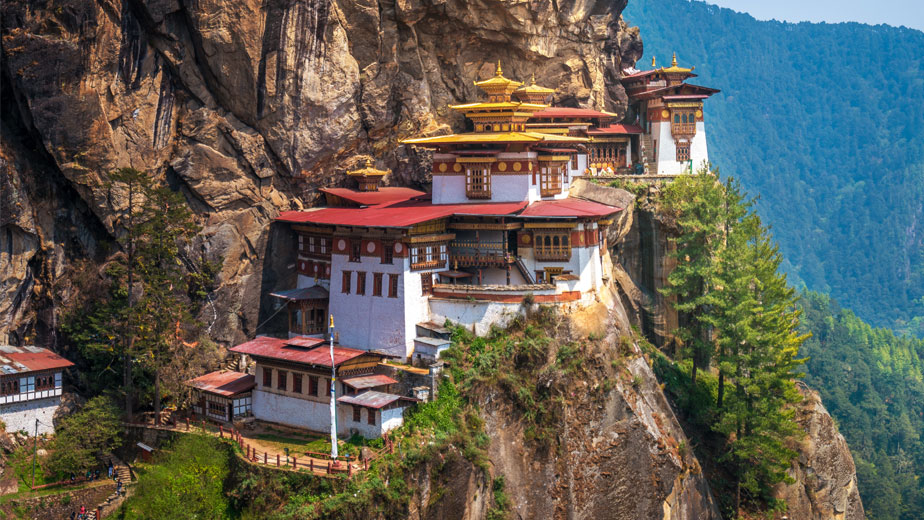 The famous Tiger's Nest Monastery
You might be aware of this monastery whenever you look into Bhutan tourism on the internet. The monastery is located in the narrow clip of a mountain in Paro valley and the mesmerizing view will surely take into peace and happiness. The story reveals that the place was chosen by a tigress that helped Guru Rinpoche to fight with a local demon. This monastery is one of the iconic landmarks of Bhutan and a must watch place whenever you visit the country. While traveling towards the monastery you will find awesome views and landscapes which are a pleasure to your eyes and the perfect subject for photographers. People who face trouble in walking can take a hide over horse which is available out there.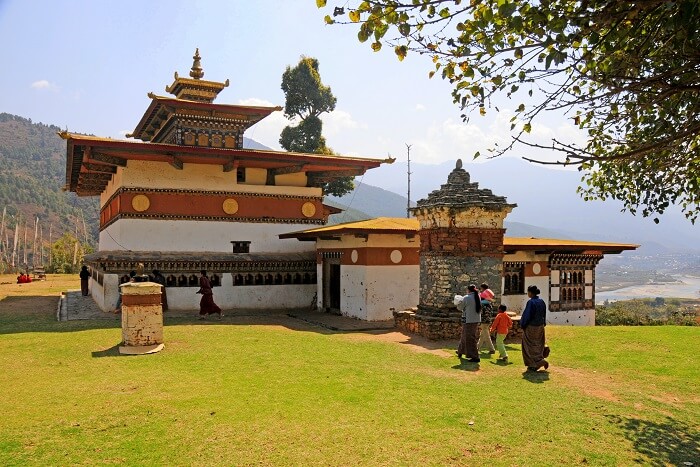 Blessings from the temple of the Divine Madman
Yes, you are in Bhutan and need to take blessings from the unique temple, Chimi Lhakhang dedicated to the Devine Madman which is believed to be a pilgrimage for a childless couple. The monk Drukpa Kunley showers his blessing to infertile women.
The walls of the temple are painted with a penis that shows the fertility needed for human civilization. The penis is considered as "Thunderbolt of Flaming Wisdom". Even if you are not interested in getting pregnant you can watch the decoration around the temple that is really a treat to your eyes.
After visiting the temple you will find dining that serves you tasty 'ema datshi' made from cheese and chilies.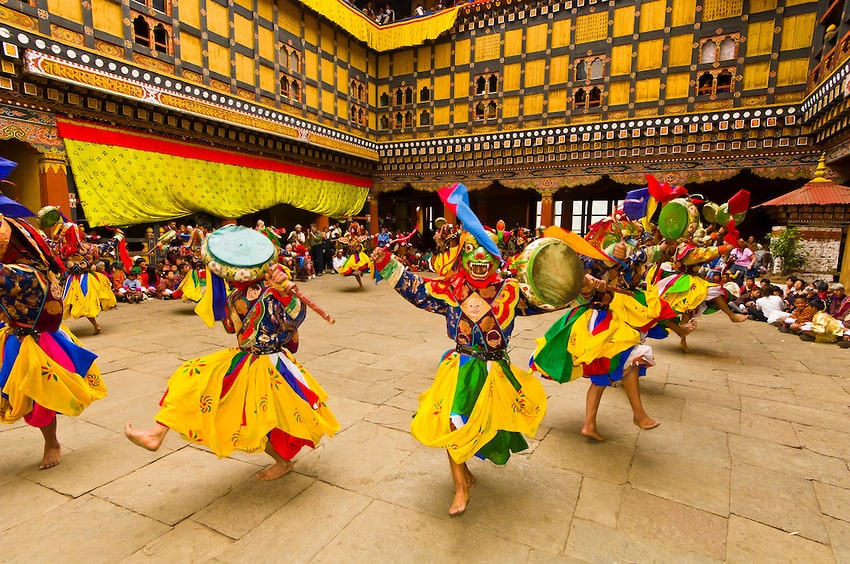 Experience traditional festivals
Enjoying and exploring traditional festivals can be a good idea to have fun and knowing more about the country and its culture. Bhutan shares its culture through traditional festivals which makes you feel better while traveling the country.
Tshechu that means 'Day 10' are yearly festivals of Bhutan and celebrated in every district with lots of enthusiasm, devotion, and dedication where people dances by wearing masks to show the joy of good over evil.. Thimphu Tshechu in September, Paro Tshechu in March and Jambay Lhakhang Drup in October are celebrated to give honor to Guru Rinpoche (Padmasambhava) who is renowned Buddhist monk of the 8th century.
Whereas Punakha Drubchen in February describes the battle of 17th century fought against Tibetan army and Haa summer festival in July marks the beauty of Haa valley followed by national sports, dance, folk songs, and local cuisine.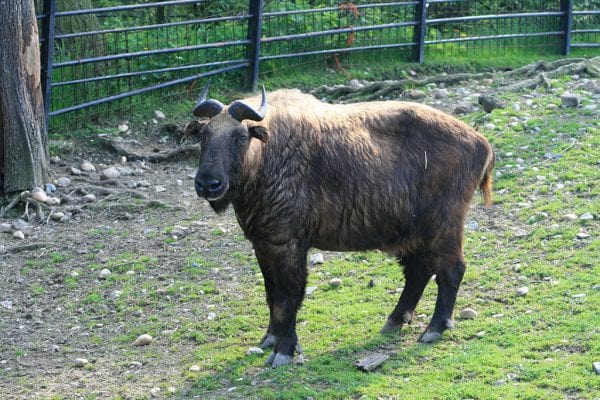 It doesn't matter that you are a nature lover or a wildlife photographer, Bhutan is the ultimate destination for you as the county is covered by 60% of the forest. Takin is the national animal of Bhutan and is found even in the streets of Bhutan.
This harmless creature is precious and set free by Fourth King of Bhutan. Along with Takin, you can watch Bharal, Goral, Serow, Musk deer, Dhole, Binturong, Yellow-throated marten, Golden langur, Tibetian wolf, Clouded leopard, and Snow leopard.
Can you imagine that this small country has 6 wildlife sanctuary and national parks?  namely, Wangchuck Centennial National Park, Royal Manas National Park, Motithang Takin Reserve, Jigme Dorji national park, Phobjikha valley national park, and Jigme Singye Wangchuck National Park.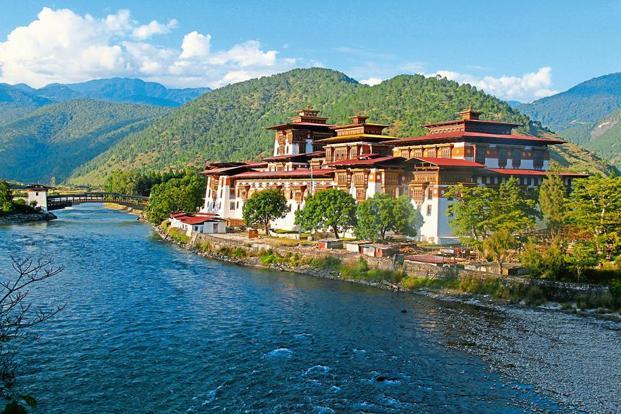 Punakha Dzong is also known as 'the place of great happiness' and is not just a monastery but also the administrative and religious centers of Bhutan. Dzong is the meeting point of two famous rivers of Bhutan called Po Chhu and Mo Chhu which make the place picture perfect.
You can enjoy river rafting along with a walk through the Dzong that is filled with wonderful paintings that show the life of Buddha. Once you enter the pace you can find the purity and holiness that refreshes your mind in a true sense.
The morals and symbols of Buddhism define the way of life and how to keeps you happy by fighting with challenges of life.   
Bhutan is a peaceful country and gives you so many options to enjoy your holidays in low costing or budget. Tourism management is known for its hospitality and friendly behavior to make you feel comfortable and relaxed.
For any queries please comment below! 
---