Seeking for a little piece of happiness? Then it is time to explore the mighty Himalayan kingdom of Bhutan, also famously known as the "Land of Happiness". With an awe-inspiring nature, a strong sense of spirituality and endless smiling faces of locals, Bhutan will definitely be a perfect destination for you.
So, it is time to grab your passport and pack your hiking gear. The happiest place in the world is calling your name!
What to expect!!
Towering picturesque landscapes decorated with snow-covered peaks
Majestic convents and monasteries
Traditional Buddhist culture
Spectacular dance performances
Local handicrafts and bustling markets
Exciting archery competitions
Where to stay…
If you are planning for a Bhutan tour then there are many budget hotels in Thimphu which will offer you a comfortable stay.
Let's go for an exciting Bhutan tour!!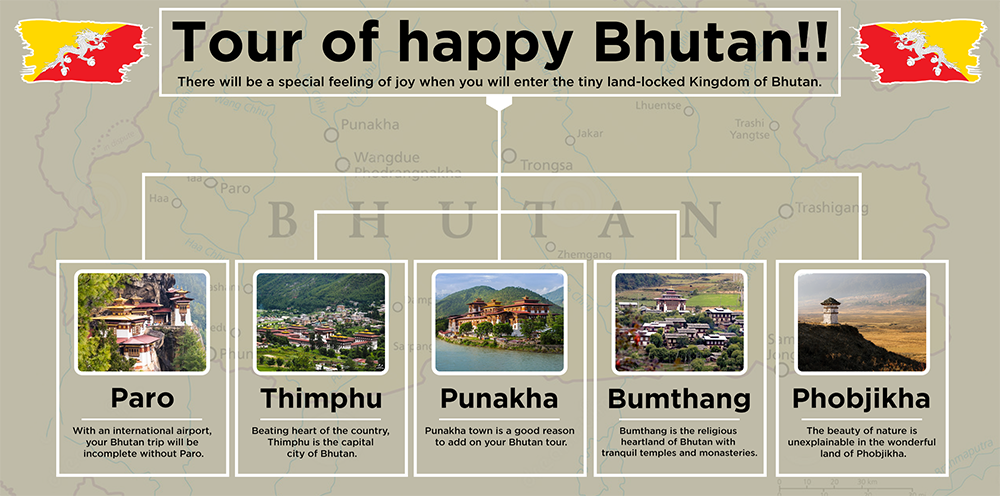 Tips for you to remember!!
Bhutan is a tiny country that has started to allow tourism so it can be tough to find information. Are you eager to plan a visit? Here are a few things you must know.
You cannot go on your own
If your shoes are off, do not take photos
Do not believe the weather forecasts
Bhutan is at a high altitude
Roads are winding and rough
Always pack long sleeves clothes
Bring cash
Welcoming visitors from all over the globe, Bhutan is the heart of the Himalayan kingdom!
Share your experiences below!
---